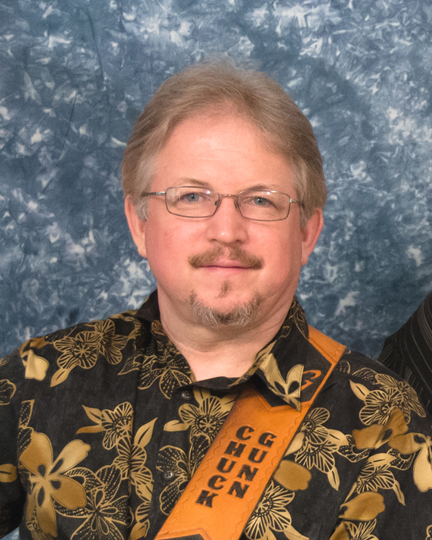 Chuck Gunn was born and raised in San Diego County. From the get go he had a musical ear, and later that spread to his fingers, when he picked up the guitar at age 12. Cutting his teeth on the likes of Neil Young, America, and John Denver as well as the Beatles, he moved to Bluegrass after being brainwashed by local heroes the Zuill Brothers, Stuart Duncan and Alison Brown. He formed the group "Mason Dixon Ramblers" with Steve and John Taylor (later of The Uninvited rock band). He gigged throughout high school at local clubs and festivals, also winning a handful of Flatpick Guitar contests including the West Coast contest in Pismo Beach in '85. He moved to Santa Barbara in the '80's and played with mandolin virtuoso Mike Mullins, as well as members of the Cache Valley Drifters in various pick up bands. He formed friendships with Ron Block and Eric Uglum, who helped him hear the nuance in traditional bluegrass.
Chuck moved to Houston in 1989, and 1990 formed th acoustic string band 'People With Hands' with the late great Dennis Marshman. One album came from this collaboration, recorded at Sugar Hill studios in Houston.
1996 met Kerry Jones and was impressed with his style and musical sense, and accepted his offer to play with his fellow UofH students, violinist Greg Ewer and Double Bass major Andy Moritz, in the bluegrass fusion project Classical Grass. Steve Jaap joined on mandolin. 12 years and 3 CD's and accolades later, the band split up when all 3 original members began simultaneous families.
Innerstate One was formed in 2002 with fellow Unity Church members Elton Witt, Michael Buentello, and Jeff "Mr Buffalo" Stocki. A self-produced CD was released years later, featuring the spiritually uplifting songs of Elton Witt. Soulful.
In 2015 Chuck got a call from Chris Hirsch, inviting him to try out for The Lonestar Bluegrass Band.
They've been gigging ever since.